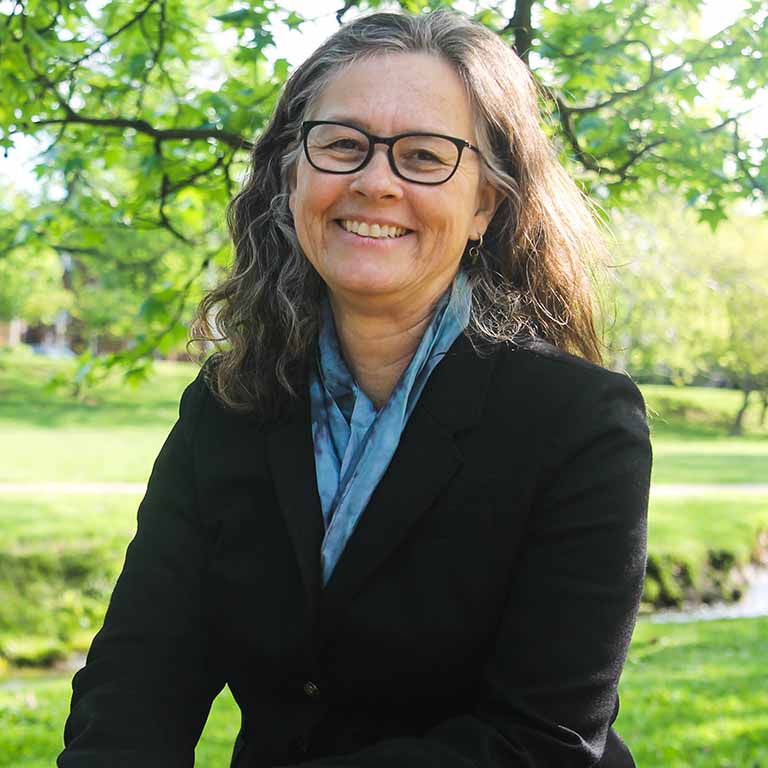 Jennifer Meta Robinson
Professor of Practice, Anthropology
Co-director, IU Graduate Certificate on College Pedagogy
Director of Undergraduate Studies, Anthropology
Education
Ph.D., Indiana University Bloomington, 2001
M.A., Northeastern University
B.A., Western Kentucky University
General Studies, Oberlin College
About Jennifer Meta Robinson
My research examines how we learn to become ourselves in the company of others, especially through the lenses of food and education. Working with small-scale food farmers and other producers in the US Midwest and Northeast, I investigate how they position themselves relative to industrial, hegemonic food systems, creating both personal meaning webs and transferable innovations. This relationship implicates other systems of meaning, making, and learning, which I carry into my study of "pedagogies of becoming," how new college teachers learn to teach and become members of teaching communities. Currently, I am researching the history of and developments in the political economy of local food, especially as new notions of justice and the commons emerge.
My research has been supported by grants from the Association of American Universities, the Carnegie Foundation, the Teagle Foundation, the Indiana Arts Commission, and Indiana University. My service to teaching has received awards from the International Society for the Scholarship of Teaching and Learning, the TIAA Hesburgh Award for Faculty Development, and IU's Faculty Academy on Excellence in Teaching. I direct the Graduate Certificate on College Pedagogy and am affiliated with Sustainable Food Systems Science, the Ostrom Workshop on Political Theory & Policy Analysis, the Center for Rural Engagement, the Integrative Program on the Environment, and the Food Institute at Indiana University.
Honors and Awards
P.A. Mack Award for Distinguished Service to Teaching. Faculty Academy on Teaching Excellence. Indiana University. 2017.
Distinguished Service Award. International Society for Scholarship of Teaching and Learning. 2016.
Student Learning Analytics Fellow. Indiana University. 2015-2018.
Trustees Teaching Award, 2012.
Nonfiction Finalist, Best Books of Indiana Competition. Indiana Center for the Book. 2008.
President, International Society for the Scholarship of Teaching and Learning, 2008-2009.
Teaching
Interpersonal Communication (A122)
Anthropology of Food (A221)
Food and Culture (E421/E621)
Food in Communication and Performance (E434/E600)
Introduction to Pedagogy (A521)
Advanced Pedagogy (A622)
Selected Publications
Books
2022. Robinson, Jennifer Meta, Valerie Dean O'Loughlin, Katherine D. Kearns, and Laura Plummer, eds. Teaching as if Learning Matters: Pedagogies of Becoming by Next Generation Faculty. Bloomington: Indiana University Press. Forthcoming June.
2017. Robinson, J. M. and J. F. Farmer. Selling Local: Why Local Food Movements Matter. Bloomington: Indiana University Press.
2012. Monaghan, L., J. Goodman, J. M. Robinson, eds. A Cultural Approach to Interpersonal Communication: Essential Readings, Second Edition. Malden, MA: Blackwell.
2010. Reynolds, H., E. Brondizio, and J.M. Robinson, eds. Teaching Environmental Literacy: Across Campus and Across the Curriculum. Indiana University Press.
2007. Robinson, J. M., and J. A. Hartenfeld. The Farmers' Market Book: Growing Food, Cultivating Community. Bloomington: Indiana University Press.
Articles, and Chapters
2021. Robinson, J. M., L. Mzali, D. Knudsen, J. Farmer, R. Spiewak, S. Suttles, M. Burris, A. Shattuck, J. D. Valliant, A. Babb. "Food after the COVID-19 Pandemic and the Case for Change Posed by Alternative Food: A Case Study of the American Midwest." Global Sustainability 4(6). http://dx.doi.org/10.1017/sus.2021.5.
2019. Robinson, J. M., V.D. O'Loughlin, K. D. Kearns, C. Sherwood-Laughlin. "The Graduate Course in College Pedagogy: Survey of Instructors of College Pedagogy in the United States and Canada." College Teaching. 10.1080/87567555.2018.1558171.
2018. Jordan, R. C., Sorensen; Shwom, R. Robinson, J. M., Isenhour, Gray, Nucci, Ebert-May. "Using Authentic Science in Climate Change Education." Applied Environmental Education & Communication 18(4): 350-381.
2018. Robinson, J. M. "The SoTL Conference: Learning while Professing." In SoTL in Action: Illuminating Critical Moments of Practice. Ed. by Nancy L. Chick. Sterling, VA: Stylus.
2017. Shwom, R., C. Isenhour, R. C. Jordan, A. M. McCright, J. M. Robinson. "Integrating the Social Sciences to Enhance Climate Literacy." Frontiers in Ecology and the Environment. DOI: 10.1002/fee.1519.
2017. O'Loughlin, V. D, K. D. Kearns, C. Sherwood-Laughlin and J. M. Robinson. "How Do We Train Our Future Faculty to Teach? A Multidisciplinary Comparison of Graduate Pedagogy Courses Offered at a Large Midwestern University." College Teaching. DOI: 10.1080/87567555.2017.1333081
2016. Robinson, J. M. "Making the Land Connection: Local Food Farms and Sustainability of Place." In The Greening of Everyday Life: Challenging Practices, Imaging Possibilities. Edited by Jens Kersten and John M. Meyer. Oxford: Oxford University Press. 198-210.
2015. Sorensen, A., R. Shwom, R. Jordan, D. Ebert-May, C. Isenhour, A. McCright, J.M. Robinson. "Model-Based Reasoning to Foster Environmental and Socio-scientific Literacy in Higher Education." Journal of Environmental Studies and Sciences. 1-8.
2014. Farmer, J.R., Chancellor, C., Robinson, J.M., West, S., and Weddell, M. "Agrileisure: Farmers' Markets, CSAs, and the Privilege in Eating Local." Journal of Leisure Research, special issue on Social and Environmental Justice 46: 313-328. 
2012. Robinson, J.M. "Performing Authenticity: Questions of Identity Competence in a Virtual World Point to Real Life Constructions." In Shaping Virtual Lives: Online Identities, Representations, and Conducts. Violetta Krawczyk-Wasilewska, Theo Meder, and Andy Ross, eds. Lodz, Poland: University of Lodz Press. 
2009. Robinson, J.M. "Foreword." R. Peden. Rural Free: A Farmwife's Almanac of Country Living. 2nd ed. Bloomington: Indiana University Press. vii-xiii.