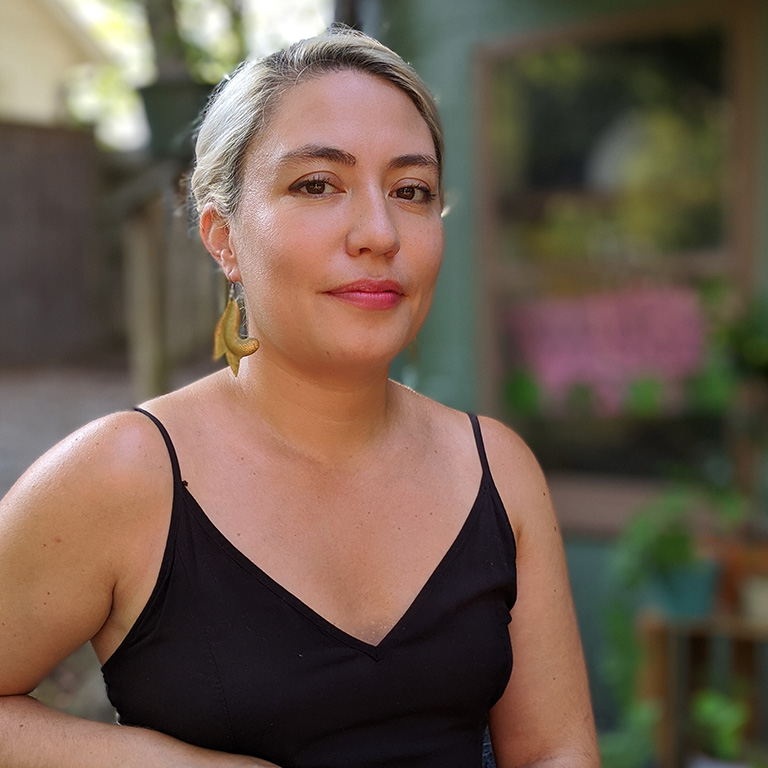 Keitlyn Alcantara
Assistant Professor, Anthropology
kalcant@iu.edu

Arch Annex
Office Hours

M

onday

9:00 a.m. - 10:30 a.m. & 2:15 p.m. - 3:15 p.m. on Zoom
Education
Ph.D., Anthropology (Bioarchaeology), Vanderbilt University, 2020
M.A., Social Sciences, University of Chicago, 2011
B.A., Anthropology, University of Washington, 2008
Geographical Areas of Specialization
Mesoamerica, Latinx Diaspora in the U.S.
Research Interests
Food sovereignty, Decolonial Anthropology, Community-based research, Bioarchaeology, Late Postclassic Mexico, Colonial Mexico, Foodways 
About Keitlyn Alcantara
As an anthropological bioarchaeologist, I analyze foodways as tools of empowerment. Melding bioarchaeological dietary isotope analyses and ethnographic interviews, my current work contextualizes food sovereignty movements in Late Postclassic and contemporary Tlaxcala, Mexico.
In the Late Postclassic (AD 1325-1519), Tlaxcala was one of few states to resist the expansive Aztec Empire, yet the context of its successful resistance is poorly understood. By melding quantitative dietary isotope and plant microfossil analyses with qualitative ethnographic interviews of contemporary community members, my research demonstrates the central role of food in shaping community capacities for resistance. I approach the bioarchaeology of Tlaxcala as a living history, one that has been intentionally removed from Aztec-centric Mexican-nationalist narratives of the past. These narratives influence the social dynamics of the present, most notably in the continued exploitation and dispossession of indigenous communities. Through a decolonial approach, my work brings archaeology into dialogue with contemporary ancestral communities, to explore how research can align with and support grassroots systems dedicated to food education and food sovereignty.
I have further expanded upon the relevance of bioarchaeology and foodways to contemporary issues such as immigration by developing a public scholarship workshop series (Sazón Nashville). Through this program, I cooked with local Latinx middle school students in Nashville, many of whom had recently immigrated, to explore how food sparks stories about memory, tradition, and identity. Through this work, I learned to recognize the ways that foodways interweave the past and the present, creating an ancestry of knowledge that is sometimes threatened by, but just as often resilient through, the impacts of colonialism, capitalism, and immigration.
My research goals emphasize the importance of interweaving academic and grassroots work to create impactful social change. I believe in challenging power hierarchies that value academic experts above community knowledge keepers, and consciously working to equitably meld academic research and community interests. My future research will expand on themes of indigenous knowledge and connection to land, community foodways, and cultural resilience. I hope to grow similar networks of community-based learning and cross-pollination of ideas beyond the walls of Indiana University and within the greater Bloomington public.
During the 2020-2021 academic year, I will be teaching ANTH P-380 Prehistoric Diet and Nutrition (Fall 2020), and ANTH A525: Community Based Research (Spring 2020). Syllabi for these and previous courses can be found here.
Selected Publications
2021. Carballo, David M. K. Alcantara, A. López Corral. Archaeological Perspectives on the Spanish-Aztec War on its Quincentennial. The SAA Archaeological Record Vo. 21, Num. 3, p. 19-28.
2021. Alcantara, K. Review Essay: Not Lost But Found- Rebuilding Relations and Reclaiming Indigenous Food Systems. Nature and Culture Vol. 16, Issue 3: 110-118.
2020. Alcantara, K. "Tamaleando en Tennessee". Bitter Southerner. July 21, 2020. https://bittersoutherner.com/2020/tamaleando-en-tennessee